EVITA- .Starring: Madonna, Antonio Banderas, Jonathan Pryce.
Alan Parker stunningly captures the celebrated musical by Andrew Lloyd Weber and Tim Rice on film. The story of Evita as told by Che. Eva Peron was born the illegitimate daughter of a penniless father. Determined to make it to the top, Eva attaches herself to a popular tango singer, in the big city. Eva becomes a radio and film actress, moving in influential circles within Buenos Aires society. But when she becomes involved with rising politician, Juan Peron, the establishment disapprove and he is arrested.
Total Running time: 122 mins.


JUDE
Starring: Christopher Eccleston, Kate Winslet etc. Jude Fawley is a stonemason who loves learning. Inspired by his teacher he longs to go to University. After a brief but unhappy marriage to the daughter of a local pig farmer, he moves to Christminster to be closer to his beloved scholars.
Running time: 117 mins.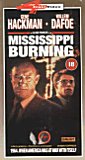 Alan Parker's MISSISSIPPI BURNING
Prepare to be shaken and moved as three young men in the 1960s meet their violent and untimely deaths on a dark Mississippi highway in this powerful and poignant drama. Based on the real-life murder investigation of three civil rights activists.
Good condition.
Starring: Gene Hackman, Willem Dafoe.
Running time: 121 mins.