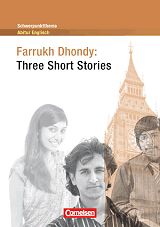 Farrukh Dhondy: Three Short Stories: Textheft (Schwerpunktthema Abitur Englisch) (hier online bestellen)



The stories: Pushy's Pimples, KBW (Keep Britain White), Good at Art
Die drei Kurzgeschichten von Farrukh Dhondy befassen sich mit dem Leben britisch-asiatischer Jugendlicher aus London


1. Pushy's Pimples
This short story mainly deals with typically teenage problems (i.e. suffering from acne), the question of a teenager when to have sexx for the first time, but also with conflicts arising from different attitudes of Indian parents and their children raised in Britain.
15-year-old Puspha ( or Pushy) learns teh 'facts of life' not from her parents, but from Michelle, her English schoolfriend. The story tells how Michelle is going to acquaint Pushy with Steve, a friend of Michelle's acquaintances. They all want to meet at Pushy's house when her parents won't be at home.Although Pushy has arranged everything for the meeting, something goes wrong and the story finishes with a surprise ending.


2. KBW
In the story, "K.B.W. (Keep Britain White)," a white teen tries to make sense of the violence and racism that drove his friend's Bangladeshi family out of the neighborhood.
It is a story about racial conflicts among blacks, whites, Undians, Pakis and Bangladeshis. They all live in run-down housing estates in Hackney, East London. The story is told from the view of an Indian schoolboy, who is friendly with Tahir from Bangladesh who has only recently arrived in London. They both are respected for playing cricket in the school's cricket team. Life in the housing estate suddenly becomes violent when some white youngsters begin to molest and attack the Asian residents.They paint insulting slogans (like 'KBW') onto the walls of the estate and even smash windows. Whe Tahir's sister Jenny is made the scapegoat for spreading typhoid in her community, things get out of control and Tahir's family leaves the estate.


3. Good at Art
Sixth former Raju doesn't feel comfortable at his school because due to his shyness doesn't have any real friends. His parents are Indian immigrants. His command of English is good but he is extremely reluctant to talk to anybody of his peers. His only strong point is his talent for art. His new art teacher who comes from Pakistan immediately discovers how gifted he is.
Raju, however, suffers most from his inability to address a girl. He simply doesn't know how to invite a girl for a drink or watching a film. The only way how to express himself is by painting. That's why he paints a picture of Kim, an English girl who seems to be interested in him and his country of birth. Even though Kim is pleased with her portrait that Raju painted, he is not sure what she thinks about him and he feels even more insecure.



About the author:
Farrukh Dhondy (born 1944 in Poona, India) is a British writer and activist of Indian Parsi descent. He obtained a BSc degree from University of Poona in India before winning a scholarship to Pembroke College, Cambridge in 1964 where he read Natural Sciences before switching to English. After graduating he studied for a Masters degree at Leicester University and was later a lecturer at the Leicester College of Further Education and a secondary school in London.

A native of India, Farrukh Dhondy came to Great Britain to be a schoolteacher, and also embarked on a career as an author, journalist, and playwright. Identifying with the growing number of non-white teens who were coming of age at that time, Dhondy has become known for works, such as the short-story collection East End at Your Feet, that show the confusion and anxieties of these young people. He has also been praised by critics for using accurate descriptions, dialect, and slang expressions to add emphasis to his tales.
As well as being a writer of books for children, young adults and adults, Dhondy writes for theatre, film and television,[1] and is also a columnist, a biographer (of C.L.R. James (2001)), and a former media executive (Channel Four Commissioning Editor for Multicultural Programmes 1984-97). At this time he wrote the comedy series Tandoori Nights (1985–87) for the channel, which concerned the rivalry of two curry house owners. Farrukh Dhondy has written among his children's' stories KBW (Keep Britain White), a study of a young white boy's response to anti-Bengali racism.


Buchdaten:
Taschenbuch: 64 Seiten
Verlag: Cornelsen Verlag (August 2011)
Sprache: Englisch
ISBN-10: 3060328692
ISBN-13: 978-3060328697
ISBN: 3060328692
Preis: € ???