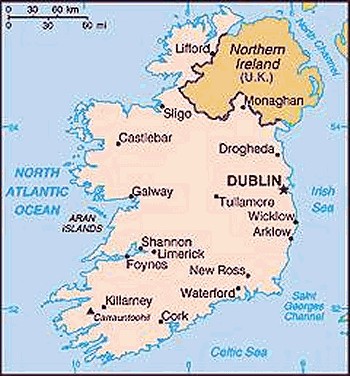 Irish Immigration to the United States
When were the major waves of immigrants from the Ireland to the United States?
Throughout the first half of the 19th century, Irish immigrants were mostly Protestant and middle class tradesmen. There was also a significant minority of lower class Catholics that arrived to escape the dire socioeconomic conditions of Ireland.

The Potato Famine of 1845-1851 caused many of the lower class Catholics of Ireland to immigrate. Huge influxes of Irish migrants, totaling around 1.7 million, immigrated from 1845 untill 1860.

Irish immigration slowly declined during the late 19th century, and has been up and down throughout the 20th century.
From which regions of Ireland did they leave?
Early Protestant immigrants migrated mainly from the northern provinces of Ireland.
Later Catholic immigrants came from the Southern provinces; examples include the counties of Connaught and Munster.
Where did they settle, and why?
Most Irish immigrants settled in urban areas, whether they were the earlier Protestant or later Catholic newcomers.
Destinations were primarily in the Northeast, such as Boston, New York and Philadelphia. Later, some settled as far as Chicago, New Orleans or San Francisco.
Employment
The unskilled Catholic workers of the early 19th century took up many different occupations: mining, canal and railroad construction, port working, textile mills, etc.
After the Civil War, many of these workers moved up to more skilled positions as managers in their previous industries, along with police officers, post-office workers, and other civil servant jobs.
The Irish continued to move up the occupational ladder throughout the 20th century, and are now immersed in almost every industry in America.
The Irish played a prominent role in the labor movement and in early trade unions.
Stereotypes, Discrimination, and Other Struggles
Discrimination was prevalent for early Irish immigrants, almost exclusively centered on the later unskilled Catholic laborers.
Much discrimination was religious, as America was a predominantly Protestant country throughout the 19th century and Catholics were looked down upon.
The Irish were often portrayed as small pugnacious drunkards, and gave way to the terms "paddy-wagons", "shenanigans" and "shanty Irish".
While these stereotypes have been overcome, there still exists sentiment that the Irish are close-minded, uneducated and fond of "hitting the bottle".
These presumptions are false, as many studies have shown that the Irish are among the most educated and most liberal demographics in the country.
Source:
Irish emigration – the 19th century
At least 8 million men, women and children emigrated from Ireland between 1801 and 1921. That number is equal to the total population of the island in the fourth decade of the 19th century. The high rate of Irish emigration was unequalled in any other country and reflects both the overseas demand for immigrant labour and the appalling lack of employment and prospects for the average Irish person.
19th-century emigration from Ireland is usually broken down into three distinct phases:

1815-1845, when 1 million left;
1846-1855, when 2.5 million left; and
1856-1914 when 4 million departed.

These figures are considered underestimates because it is difficult to ascertain the numbers who settled permanently in mainland Britain. Ireland was still a part of Britain, so travel to or from the mainland was not subject to any scrutiny.
About 80% of Irish immigrants who left their homes in this period were aged between 18 and 30 years old.
As the figures above suggest, Irish emigration levels up to 1847 did not materially reduce the population of Ireland. But in that year, the first after the pototo harvest had failed so spectacularly, the exodus really began. According to figures collated 15 years later, some 215,444 persons emigrated to North America and other British Colonies in that one year alone. This doubled the previous year's figures for Irish emigration.
Between 1841 and March 1851, North America was the most popular destination while some 300,000 went to Australia. Irish emigration direct to New Zealand did not get underway until later. An estimated average of 2,000 people emigrated there between 1871 and 1920.



New wave of Irish immigration
Tens of thousands of Irish people are expected to move abroad in 2011 to seek jobs and get away from the country's financial gloom with many going to the UK, Canada, the US, New Zealand and Australia.
Since 2007, the number of Irish people immigrating to Canada has risen by 80% and the UK is seeing 1,000 Irish nationals arriving per month.
Last year, 3,462 Irish immigrants gained permanent residency in Canada and over 1,500 moved permanently to Australia.
Emigration among Irish nationals has increased significantly in the year, from 18,400 in April 2009 to 27,700 in the 12 months to April 2010. According to the Economic and Social Research Institute, net migration from Ireland may reach 60,000 in 2011.

The Technical Engineering and Electrical Union (TEEU), one of Ireland's largest trade unions, now trains its members for work overseas. Unemployment in Ireland stood at 13.4% in December 2010 and there is an increasingly aging population with the estimated number of persons aged 65 years and over now exceeding half a million for the first time ever.
New figures show Irish citizens have received 21% more long term resident visas for Australia, 49% more New Zealand resident visas and 33% more US immigrant visas.


Irish War of Independence,



Anglo-Irish War, Black and Tan War, or Tan War was a guerrilla war mounted by the Irish Republican Army (IRA) against the British government and its forces in Ireland. It began in January 1919, following the Irish Republic's declaration of independence. Both sides agreed to a ceasefire (or "truce") in July 1921. The post-ceasefire talks led to the December 1921 Anglo-Irish Treaty. This treaty ended British rule in most of Ireland and, after a ten-month transitional period overseen by a provisional government, the Irish Free State was established. However, six northern counties remained within the United Kingdom as Northern Ireland, with its own devolved parliament. After the ceasefire, political and sectarian violence (between republicans and loyalists, and between Irish Catholics and Protestants) continued in Northern Ireland for many months.
The IRA that fought in this conflict is often called the Old IRA to distinguish it from later groups that also used the name.. ... more on The Home Rule Crisis, The Easter Rising, the IRA organisation and operations, the Peak of violence, December 1920-July 1921, the Truce, July 1921 – December 1921, Northern Ireland's bloody birth, the Evacuation of British forces 1922, Independence and the Irish Civil War etc.
Partition of Ireland,



The partition of Ireland (Irish: críochdheighilt na hÉireann) was the division of the island of Ireland into two distinct territories, now Northern Ireland (a part of the United Kingdom) and the Republic of Ireland (an independent state). Partition occurred when the British Parliament passed the Government of Ireland Act 1920. From 1801 to 1920 the whole island had formed an integral part of the United Kingdom of Great Britain and Ireland and was governed as one unit. The Act of 1920 was intended to create two separate self-governing territories within the UK, but partition was reinforced in 1922 when the greater part of Ireland was separated from the United Kingdom.
Since partition began, a key aspiration of Irish nationalists has been to bring about a united Ireland, with the whole island forming one independent state. This goal conflicts with that of unionists in Northern Ireland, whose objective is to remain part of the United Kingdom. The British and Irish governments have agreed, under the 1998 Belfast Agreement, that the status of Northern Ireland will not change without the consent of the majority there.


1917-20: The Road to Partition





Northern Ireland since 1921 and various other topics





Socio-economic developments, changes in Irish society from 1960, migration in the 1970s and 90s etc.





What was the conflict between the Catholics and Protestants in Ireland?





Does Irish Music lie 'Between Tradition and Modernity'?





Word and Image in Irish Modernism - The emergence of Irish visual modernism in the context of literary modernism





Tourism in Ireland - What is our role?


Tourism Ireland's role is to grow overseas tourism revenue and visitor numbers to the island of Ireland, and to help Northern Ireland to realise its tourism potential. Tourism Ireland devises and delivers world-class marketing programmes in over 20 markets across the world and works in close co-operation with industry partners on the island of Ireland as well as with the travel trade, online operators, media, air and sea carriers overseas to encourage consumers to "Go where Ireland takes you".
We also help to influence product development here on the island, by sharing our insight on global tourism trends and the changing need of overseas consumers with other tourism agencies, particularly with Fáilte Ireland and the Northern Ireland Tourist Board and with industry partners.


THE IMPACT OF TOURISM ON THE IRISH ECONOMY




zurück zur Übersicht