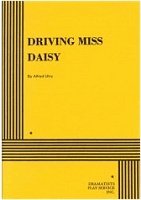 Driving Miss Daisy by Alfred Uhry (hier online bestellen)


The story:
The play spans a period of twenty-five years in an unbroken series of segments. At the beginning of the play, Daisy Werthan, a seventy-two-year-old, southern Jewish widow, has just crashed her brand-new car while backing it out of the garage. After the accident, her son Boolie insists that she is not capable of driving. Over her protests, he hires a driver Hoke Coleburn, an uneducated African American who is sixty. At first, Daisy wants nothing to do with Hoke.
She is afraid of giving herself the airs of a rich person, even though Boolie is paying Hoke's salary. She strongly values her independence, so she also resents having someone around her house.
For the first week or so of Hoke's employment, Daisy refuses to let him drive her anywhere. He spends his time sitting in the kitchen. One day, however, he points out that a lady such as herself should not be taking the bus. He also points out that he is taking her son's money for doing nothing. Daisy responds by reminding Hoke .....


Extract from book:
In the dark we hear Daisy call from offstage: "Idella, I'm gone to market. " A car ignition is turned on; then we hear a horrible crash, followed by bangs and bowns and wood splintering. The very loud noise stops suddenly and the lights come up on Daisy Werthan's living room. Daisy, age seventy-two, is wearing a summer dress and high-beeled shoes. Her hair, her clothes, her walk, everything about her suggests bristle and feistiness and high energy. She appears to be in excellent health. Her son, Boolie Werthan, forty, a businessman, junior Chamber of Commerce style. He has a strong, capable air. The Werthans are Jewish, but they have strong Atlanta accents.

DAlSY: No!

BOOLIE: Mama

DAlSY : No!

BOOLIE: Mama!

DAISY: I said no, Boolie, and that's the end of it.

BOOLIE: It's a miracle you'ru not Iaying in Emory Hospital or decked out at the funeral home. Look at you! You didn't even break your glasses.

DAISY: lt was the car's fault.

BOOLIE: Mama, the car didn't just back over the driveway and land on the Pollard's garage all by itself. You had it in the wrong gear.

DAISY: I did not!

BOOLIE: You put it in reverse instead of drive. The police report shows that.

DAISY: You should have let me keep my La Salle.

BOOLIE: Your La Salle was eight years old.

DAISY: I don't care. lt never would have behaved this way. And you know it.

BOOLIE: Mama, cars don't behave. They are behaved upon. The fact is you, all by yourself, demolished that Packard.

DAISY: Think what you want. I know the truth.

BOOLIE: The truth is you shouldn't be allowed to drive a car anymore.

DAISY: No.

BOOLIE: Mama, we are just going to have to hire somebody to drive you.

DAISY: No we are not. This is my business.

BOOLIE: Your insurance policy is written so that they are going to have to give you a brand-new car.

DAISY: Not another Packard, I hope.

BOOLIE: Lord Almighty! Don't you see what I'm saying?

DAISY: Quit talking so ugly to your mother.

....................

From: Driving Miss Daisy - A play by Alfred Uhry, The Theater Communications Group, New York, 1990, pp. 1-2


About the author:


Alfred Uhry was born around 1936 to an upper-middle-class German-Jewish family. He grew up in Atlanta, Georgia, where his father was a furniture designer. He left the South in 1958 to attend Brown University in Rhode Island, and he graduated with a degree in English. Uhry next moved to New York to begin his career in show business. He began collaborating with the composer Robert Waldman.
Theirplay The Robber Bride groom (1975) was their most successful, earning Uhry a Tony nomination and a Drama Desk nomination. It is a musical based on the southern writer Eudora Welly's novella. Uhry wrote the book and the lyrics. The play was a surprise hit Off-Broadway and moved to Broadway for the 1976-77 season.
He continued to work on other musicals, many of which closed on opening night or soon thereafter, or never even opened. To earn a living, he also wrote lyrics for television shows and commercials and also taught English and drama at a New York high school. In 1984, Uhry .....


Buchdaten:
Driving Miss Daisy by Alfred Uhry
Taschenbuch: 39 Seiten
Verlag: Josef Weinberger Plays (Juni 1997)
Sprache: Englisch
ISBN: 0822203359
Preis: € 8,90


If you want to buy this book second hand , send me an eMail
The price of it is € 5 incl. postage.




zurück zur Übersicht