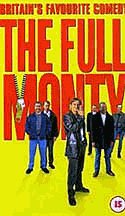 If you want to buy this video second hand
send me an eMail
Used, but in very good condition
10 € + 1,50 € postage


OR DVD:
DVD: THE FULL MONTY (hier online bestellen)


Starring: Robert Carlyle, Tom Wilkinson, Mark Addy, William Snape, Steve Huison
Directed by: Peter Cattaneo
Duration: 88 mins

The story:
Dole queue, Job Club, domestic discord - the world is falling apart for six unemployed Sheffield steelworkers. But one of them has had enough. Determined to beat the system, Gaz (Robert Carlyle) hatches a plan that will make him and his friends serious rich - and quickly! He convinces them that a strip routine will bring in the punters, especially when that act reveals the ultimate - the full monty!
As our local heroes prepare for the big night word gets round that a very special act is about to storm the clubs of steel city. Director Peter Cattaneo combines black comedy, roaring hilarity and all the absurdity, heartache and pathos of six men trying to keep body, soul and dignity together. Well, just about! The most successful British film of all time, The Full Monty also boasts a superb soundtrack, with hits by Hot Chocolate and Tom Jones.



zurück zur Übersicht