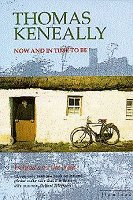 Out of print at Amazon!
If you want to buy this book second hand (paperback - c. 198 pp.) (€ 13 incl. postage), send me an eMail


The story:
"From the furthest rim of the Irish diaspora, Thomas Keneally - Australian Booker Prize-winning author, of Irish descent - returns to his spiritual homeland.
The result is both an unforgettable journey rich in observation and insight, and a passionate exposition of his own deeply personal view of Ireland today: an attempt to unpack his 'baggage of myths picked up from ancestors and others and match them against the ambiguous late twentieth-century reality.' Between Cork, Ulster and Dublin, history reverberates and persists, and modern Ireland presents its ironies and contradictions.
'Now and in Time to Be' is a sometimes poetic, sometimes proud and always thoughtful evocation of Ireland in all its glory and complexity."

Extract from book: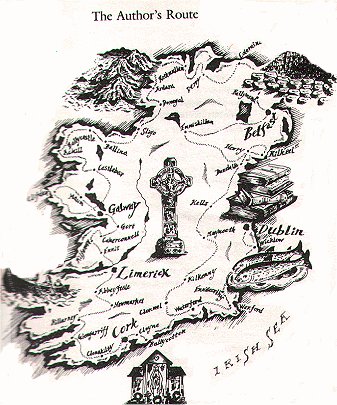 Foreword:
"On a post-Mass Sunday morning about first pint time, at the south-east Cork port of Ballycotton, I made my lunge at starting this book about Ireland in itself, and the miniscule question of Ireland and me. I would make second lunges elsewhere, and these would not be wasted, I hoped, but would be sewn into this story somewhere.
One of the starts which didn't take was at Cobh, though I would have put my money on that great harbour so redolent of Irish departures, willed and unwilled. Another was at Newgrange, at the Great Tomb, built by neolithic farmers for the purpose of focussing just one beam of light into a burial chamber at dawn on the year's shortest day. Next lunge was Antrim, at the Giant's causeway, where I tried to reach for a connection between Fionn MacCumhaill's palaver with a Scottish giant on one hand, and on the other hand the poisonous Orange-Green dialogue up there in Britain's last, most beautiful and saddest province. Fifth,sixth, seventh lunge will all appear in time, and by the time I finish, I may know where to start. Just the same, this account may very well be like the Ireland that's represented in the neolithic tombs in the Boyne: a set of circles carved in stone and lacking an end and a beginning; or instead possessing both at every point."
Chapter One:
"....Ballycotton is a stereotype of the Irish fishing village. Steep streets where Irish families of modest means might spend a week every summer in some tidy guesthouse called the 'Aisling'. A high sea wall raised like a muscular forearm against the ocean, and - though not quite the currachs of Arran - risky-looking fishing boats, rowboats in one or two cases, in others rickety trawlers equipped with radar, nosing out to make free of the sea. ..... My reason for starting here is that this is the sea my grandparents took to when they - separately - chose to launch themselves on the longst journey of the Irish diaspora - Cork to Australia. These were the cliffs - between here and Cobh - they last saw, and only then if the weather was good. ..."


About the author:


Born in Sydney in 1935, Thomas Keneally completed his school education at various schools on the New South Wales north coast before he began studying theological studies for the Catholic priesthood. He abandoned this vocation in 1960 and turned to clerical work and schoolteaching before publication of his first novel in 1964. Since that time he has been a full-time writer.
One of the most successful modern Australian writers, Keneally has been short-listed for the Booker Prize on 4 occasions: in 1972 for The Chant of Jimmie Blacksmith, Gossip from the Forest in 1975, and Confederates in 1979, before winning the prize in 1982 with Schindler's Ark. This last novel caused something of a controversy at the time as it was considered by some to be more a work of journalistic reporting than a novel of fiction. In any event, by the time Stephen Spielberg filmed his version of the book under the title Schindler's List in 1993, the controversy was forgotten.
A number of Keneally's later works have reflected his wider range of interests and deal with subjects which are not confined to a specific Australian context. In addition, there appears to have been a move away from older, more established writers such as Keneally by the Miles Franklin judges.
In The Age newspaper of Saturday 7th November 1998 there is the announcement of Keneally's new book The Great Shame. In an article in that paper, Keneally writes: "Some years ago an editor suggested that having written on the Holocaust I should write something on the great Irish catastrophe of the 19th century...We agreed that the 19th-century calamity, particularly the famine, was compelling. But it had been splendidly written about by a number of writers. And it was not comparable to the Holocaust...In any case, I told the editor that if ever I was silly enough to buy into the tendentious question of Irish history I would want to tell the story not frontally from the point of view of convicts transported to Australia for particular crimes, not those aimed directly at person or property but those designed as social or political protest." The result was his new book. The research and writing took three years - the longest gap between any successive books in Keneally's writing history.
Thomas Keneally was awarded the Order of Australia in 1983 for his services to Australian Literature. He is married with two daughters and lives in Sydney.


Buchdaten:
NOW AND IN TIME TO BE: IRELAND AND THE IRISH by Thomas Keneally
Sprache: Englisch
Paperback 208 pages (September 24, 1992)
Publisher: Flamingo
ISBN: 0006377327
Preis: ???

Used, but not in good condition (no markings etc. though)
13 € incl.postage
If you still want to buy this book second hand (paperback, 198 pp.), send me an eMail

More works from the same author:

zurück zur Übersicht