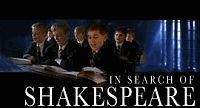 Shakespeare in the Classroom
Developed in partnership with the Folger Shakespeare Library, these classroom resources were designed around six thematic strands: Shakespeare's Language, Shakespeare on Film, Performance, Primary Sources, Teaching Shakespeare to Elementary Students, and Teaching Shakespeare with Technology. Under each theme you will find professional development strategies and lesson plans, a multimedia library of curriculum resources, and much more. Each component integrates the study of Shakespeare's greatest works with his life and the times that defined him.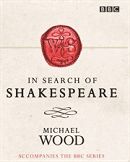 IN SEARCH OF SHAKESPEARE (paperback)
In this absorbing historical detective story, the acclaimed broadcaster and historian Michael Wood takes a fresh approach to Shakespeare's life, brilliantly recreating the turbulent times through which the poet lived: the age of the Reformation, the Spanish Armada, the Gunpowder Plot and the colonization of the Americas. Drawing on an extensive range of sources, Michael Wood takes us back into Elizabethan England to reveal a man who is the product of his time - a period of tremendous upheaval that straddled the medieval and modern worlds. Using a wealth of unexplored archive evidence, the author vividly conjures up the neighbourhoods of the Elizabethan London where Shakespeare lived and worked during his glittering career. Full of fresh insights and fascinating new discoveries, this book presents us with a Shakespeare for the twenty-first century: a man of the theatre, a thinking artist, playful and cunning who held up a mirror to hi sage, but who was also, as his friend Ben Jonson said, 'not of an age, but for all time'.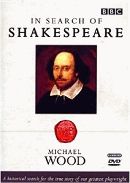 In 'Search of Shakespeare' (DVDs) is a documentary series, presented by Michael Wood, about William Shakespeare' life somewhat obscured by the historical record. Michael Wood tours some important locations related to William Shakespeare and explores Shakespeare's life and works. The series consists of four episodes: A Time of Revolution; The Lost Years; The Duty of Poets; and For All Time.

In Search of Shakespeare: Episode 1 - A Time of Revolution
This episode shows Shakespeare's life in the early years of Elizabeth's reign, at the beginning of Elizabeth's Cultural Revolution.

In Search of Shakespeare: Episode 2 - The Lost Years
This episode deals with the ten years in Shakespeare's life between the ages of 18 and 28 and explains how Shakespeare became a star writer in London.

In Search of Shakespeare: Episode 3 - The Duty of Poets
This episode uncovers Shakespeare's rise to fame and fortune in Elizabethan London, and his disasters in life and love.

In Search of Shakespeare: Episode 4 - For All Time
This episode tells the story of Shakespeare's life in the "New Age" of King James I.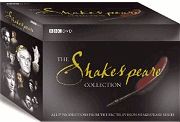 The 'BBC TV Shakespeare Collection' (DVDs) contains the
Complete Dramatic Works of Shakespeare:
The Two Gentlemen of Verona 1595 (Entstehungsjahr)
The Taming of The Shrew 1590
Henry VI, Part One - Henry VI, Part Two 1591
Henry VI, Part Three 1592
Richard The Third (III) 1592
The Comedy of Errors 1592
Titus Andronicus 1594
Love's Labour's Lost 1595
A Midsummer Night's Dream 1595
Richard The Second (II) 1595
Romeo and Juliet 1595
The Life and Death of King John 1596
The Merchant of Venice 1596
Henry the Fourth (IV) Part One 1597
The Merry Wives of Windsor 1597
Henry the Fourth (IV) Part Two 1598
Much Ado About Nothing 1598
Henry the Fifth (V) 1599
Julius Caesar 1599
As You Like It 1600
Hamlet, Prince of Denmark 1600
Twelfth Night 1601
Troilus and Cressida 1602
Measure for Measure 1604
Othello, The Moor of Venice 1604
All's Well That Ends Well 1605
King Lear 1605
Macbeth 1606
Antony and Cleopatra 1606
Pericles, Prince of Tyre 1607
Timon of Athens 1607
Coriolanus 1608
The Winter's Tale 1610
Cymbeline 1611
The Tempest 1611
Henry the Eighth (or All Is True) 1613















zurück zur Übersicht