With alcoholic liver disease reaching epidemic levels, and underage drinking soaring, doctors want booze adverts aimed at the young banned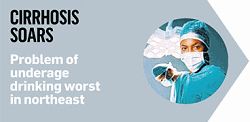 The rate of alcoholic liver disease has soared* among young adults in the northeast of England. Balance, a health campaigning group, revealed last week that 189 people aged 30-34 were admitted to the region's hospitals last year, a 411% rise over 2002. This compared with a 61% increase nationally. The northeast also has the highest rate of drinking among 11 to 15-year-olds, making them more likely to be the victims of crime, have unprotected sex and underperform at school. In total, 21,798 patients in the region have been admitted with alcoholic liver disease over the past eight years, costing the NHS more than £50m. Nationally, the average adult consumes almost 11 litres of pure alcohol each year, more than twice as much as in the 1950s.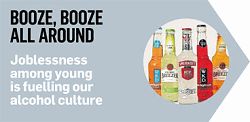 A decade ago it was highly unusual for a liver specialist to treat anyone under the age of 50 for alcoholic cirrhosis*, according to consultants. They blame the rise in hospital admissions on a culture in which alcohol is heavily promoted, sold at "pocket money prices" and readily available. "With the economic conditions becoming more difficult, and gainful employment* opportunities becoming tougher, teenagers without jobs are resorting to drinking more heavily," warned Anjan Dhar, consultant gastroenterologist* at Co Durham and Darlington NHS Foundation Trust. He said this would have a serious impact not just on the young drinkers' own health but on Britain's limited health resources.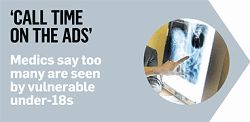 Alarmed by the figures, a group of 35 liver specialists, gastroenterologists and other consultants have backed a campaign by Balance calling on the government to take action. They want a ban on alcohol advertising on television and in cinemas during films that can be seen by under-18s. They would also like drinks producers to be prevented from sponsoring sporting and cultural events. "People are drinking at much earlier ages and in much greater quantities than ever before. It is clear we need to halt this epidemic in its tracks, otherwise we will soon be treating young men and women in their twenties on a regular basis for a disease that is 100% preventable," they wrote in an open letter to a national newspaper on Friday.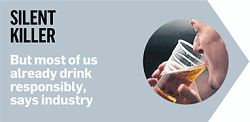 Liver disease takes about 5-10 years to take hold and does not usually cause any symptoms until extensive damage has been done. The condition is a "silent killer", according to the Department of Health; death rates linked to alcoholic liver disease have risen by 69% over the past 30 years. The Portman Group, the drinks industry lobby group, says such instances of misuse should be seen in context. "The vast majority of people in the UK drink responsibly and 75% of adults drink within the chief medical officer's guidelines," a spokesman for the group said. "It is in all our interests to help people who misuse alcohol, but a knee-jerk* blanket ban is disproportionate and unnecessary."
505 words

Source: The Sunday Times of Dec. 4, 2011


Annotations:
* to soar - ansteigen
* alcoholic cirrhosis - Alkoholzirrhose (nicht umkehrbare Zerstörung des Lebergewebes)
* gainful employment - Erwerbsarbeit
* gastroenterologist - Gastroenterologe, Magen-/Darmspezialist
* knee-jerk - refexhaft, spontan


Assignments:
1. The worrying effect of alcoholic liver disease patients are the 11 to 15-year-olds. What are the consequences brought about for these young people?
2. What does the campaign organized by 'Balance' aim at?
3. Why is liver disease called 'silent killer'?
4. Do you think an outright ban on alcohol would solve the problem of people drinking excessively?
5. Young people in southern European countries seem to cope with alcohol better than their northern counterparts. What could be the reasons?