Easy GCSEs 'a ploy to please parents eager for A grades'

Exam boards are keeping GCSEs at a "meaninglessly easy" level to please middle-class parents and protect their multimillion-pound textbook industry, according to a leading academic.

Richard Pike, chief executive of the Royal Society of Chemistry, said that politicians, examining bodies, quangos and schools all had a vested interest in maintaining low standards.

MPs had admitted that they had no interest in making GCSEs tougher, he said, because they did not want to upset middle-class parents who now expected their children to achieve strings of A grades. Schools were reluctant to jeopardise their league table positions and exam boards were afraid of damaging business by making their papers harder than those of their competitors.

The exams regulator, Ofqual, has twice ordered awarding bodies to toughen their science GCSEs, saying the exams had too many short, simple questions that could be answered using common sense. New versions were recently returned to them for rewriting after being deemed unsatisfactory.

Dr Pike said: "A new relationship must be established with universities and industry, which have been left out of the curriculum development and assessment process. This is not a broken system that has to be fixed — it is a corrupted edifice that must be razed to the ground and rebuilt."

Draft versions of science papers for 2013 could be passed by reading a newspaper every day, he said. The questions were of the standard learnt by a 13-year-old from his own school days.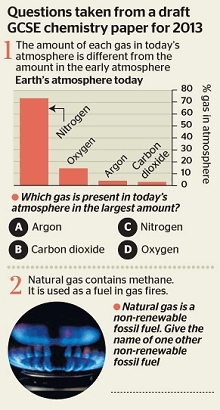 A draft foundation level GCSE chemistry paper seen by The Times, includes the question: "Recycling aluminium can be good for the environment. Give two environmental advantages of recycling aluminium." The higher level paper asks: "Complete the labels showing the two main gases in the Earth's atmosphere." It also asks candidates to discuss the advantages and disadvantages of using biofuel instead of petrol for cars. Dr Pike said of the 27 parts to the questions that only one required candidates to write a chemical equation. The hardest calculation involved merely adding 1 to 100.

Dr Pike said that about two thirds of pupils taking science GCSE achieved a pass — C grade or above. "The C grade has become meaningless. Examining bodies are trying to get away with the minimum. All have big publishing businesses. If they were told to buck their ideas up, their multimillion-pound businesses would be threatened. Text books and revision guides would have to be pulped. It is a scandal."

Asked whether it was tantamount to a cover-up, he said: "I think you are getting very close. Even when I have talked to MPs involved in education, they think addressing [the problem] is very tricky. [There is] political expediency to get as many children to get as many GCSEs at C and above as possible."

A spokeswoman for AQA, the largest examination body, said it had been asked to lower the standard of its GCSE science papers in 2008 to come into line with other boards. "We repeat our previous calls for Ofqual to be able to take a tougher stance to ensure standards are met."

The OCR exam board said: "Dr Pike cannot provide any evidence of a cover-up, nor is it rational to believe there is one." OCR was working with scientists "to develop good, appropriate qualifications". Edexcel exam board said that it was working with Ofqual to get the balance right and that it would welcome the chance to see Dr Pike's research.

Source: TimesOnline, July 21, 2010