Allgemein zu den Prüfungen:
Die Kernlehrpläne unterscheiden in Anlehnung an den Gemeinsamen europäischen Referenzrahmen für Sprachen bei den mündlichen Fertigkeiten "Sprechen: an Gesprächen teilnehmen" und "Sprechen: zusammenhängendes Sprechen". Beide Bereiche werden in der mündlichen Abweichungsprüfung erfasst.
Das Prüfungsgespräch erfolgt in zwei Phasen, die thematisch-inhaltlich jeweils Bezug auf eines der zwei Unterrichtsvorhaben nehmen. Ausgangsbasis für das Prüfungsgespräch können die folgenden Materialien sein, von denen der Prüfling eines für die Vorbereitung erhält. Der Prüfling sollte in der Vorbereitungszeit einen Hinweis auf das Thema der zweiten Phase erhalten.
Mögliche Materialgrundlagen:
• Kurztext mit Leitfragen
• Thematischer Impuls (mit Sprachbausteinen oder Leitfragen)
• Bildimpuls
• Diskontinuierlicher Text (Diagramm, Schaubild, Mindmap)

Der Einstiegsimpuls sollte so offen formuliert sein, dass der Prüfling die Gelegenheit hat, einen selbstständigen Redebeitrag zu leisten. Der Beginn der zweiten Prüfungsphase muss für den Prüfling klar erkennbar sein und vom Prüfer entsprechend moderiert werden, Ein evt. Materialimpuls für die zweite Phase muss dem Prüfling direkt zu Beginn der zweiten Phase ausgehändigt werden. Dieser Impuls muss so beschaffen sein, dass er unmittelbar vom Prüfling erschlossen werden kann und zu einer sprachlichen Reaktion anregt (z.B. Bild).


Beispiel für die Hauptschule (Klasse 10 Typ A) und Gesamtschule (Grundkurs):

1) The Media and You (Kurztext mit Leitfragen)
In class we talked about mobile phones and how they have changed the way we communicate. Please read the following text and talk about the use of mobile phones in the US and in Europe.
In the US, a mobile phone (also called cellphone) is a tool. In Europe, a mobile phone is a lifestyle. To many people in Europe, their mobile phone is a fashion statement. It says something about you, much like your clothing. Americans also care about the look of their phones. But in general Americans do not identify with the phone as deeply. SMS is more popular in Europe than it is in the US. Young Americans prefer PC-based instant messaging, now often in combination with webcams.

What does the text tell you about the use of mobile phones in the US and in Europe?
2) In the second part of the exam we will talk about bullying at school.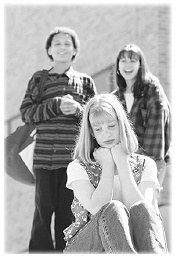 Mögliche Fragen für den Prüfungsverlauf:
1) The Media and You (Kurztext mit Leitfragen)

Do you agree with the author? Is your mobile phone also a fashion statement?
Do you think that we will stop talking one day and send SMS instead?


2) Bullying at school (Bildimpuls mit Leitfragen)
Bullying happens at all schools every day of the year. Most pupils have seen bullying at their school but only 25 percent of them stopped the bullies and helped the victim.

What forms of bullying do you know of? Have you ever been bullied?
Why do only 25 percent of the pupils stop bullies – What can you say about the other pupils?
What can be done to stop bullying at schools?
Quelle