Hey Joe – Jimi's alive
Stars who died too young are set to rock a new generation as holograms*. One company is working on Jimi Hendrix.

IT IS 42 years since he died but the celebrated guitarist Jimi Hendrix will soon be taking to the stage again. His sister, Janie, has confirmed that a British company is working on a Hendrix hologram which will allow fans to watch him perform his hits from the 1960s such as Purple Haze and Hey Joe "live" to a new generation of fans.

Thanks to a mixture of Victorian and new technology, the Hendrix hologram will even be able to destroy his Fender Stratocaster* — the archetypal climax to a Hendrix gig*. Janie said last week she was "shaken" by the new technology. "But for us it's all about making sure that Jimi is authentic and true to himself and his music," she told Billboard magazine.

Hendrix is the latest celebrity in a wave of disinterred* performers including Elvis Presley, Michael Jackson, Kurt Cobain of Nirvana and Jim Morrison of The Doors who are expected to be brought to holographic life.

Arena managers say such "classic" acts would outsell most current performers as they are beloved by well-heeled* fans who were too young to see them in the flesh. The gold rush was born in April at the Coachella music festival* in California, when 80,000 fans were stunned to see the rapper Tupac Shakur appear on stage alongside Snoop Dogg and Dr Dre and perform two of his hits.

Shakur was shot dead in Las Vegas in 1996, but technical wizardry allowed his words and filmed images to be combined in a realistic life-sized illusion. The £250,000 hologram, which may travel the world, is based on Pepper's ghost, a theatrical trick devised by the London chemist John Henry Pepper for Charles Dickens. In 1862 he used off-stage mirrors to project a ghostly image onto a piece of glass during a performance of Dickens's play The Haunted Man.

The latest version has been developed by Digital Domain, a company established by the director James Cameron to produce special effects for ground-breaking films such as Terminator, The Abyss and Avatar. Cameron joined forces with the British firm Musion to replace the onstage glass with a 30ft by 13ft slanted foil screen, which can be packed up alongside projectors and sent on tour with a backing group.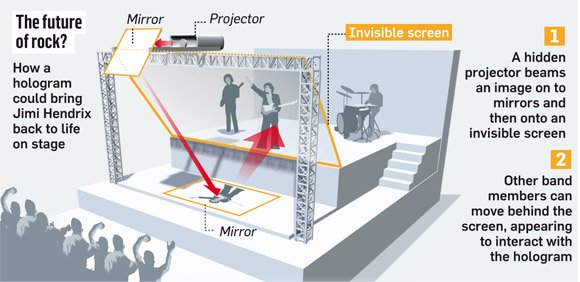 James Rock, a Musion director, said the technology has allowed Mariah Carey to appear in four European cities simultaneously for a Christmas concert. "It is more of a holographic projection than a true hologram. But it saves artists a lot of travelling and allows new generations to enjoy past iconic performances," he said.

The technology means the apparitions* can move around the stage and interact with living artists, said Jeff Jampol, who manages The Doors and the estates of the singers Otis Redding, Janis Joplin and Peter Tosh. "We're getting to the point where Jim Morrison will walk right up to you, look you in the eye, sing right at you and then walk away," he said.

Although the holograms are amazingly lifelike, there are some differences. Morrison was once arrested after he exposed himself on stage. Jampol has promised that if The Doors go on tour next year with a holographic Morrison he will be relatively well behaved. "But he would still be Jim," he added.

Is this a new genre of zombie rock? Dan Cairns, The Sunday Times rock critic, said: "It is a bit ghoulish* but it proves that death is no career obstacle. With the general decline of the music industry, what few morals it ever had are being ditched. We live in such a virtual world these days and people are so used to watching events on screen — even when they are at a live event — that going to see a hologram is not so far-fetched."

There are legal issues over who owns the image. The stars' heirs say it belongs to them under copyright laws, but Digital Domain claims it is a "new creation". Last week the estate of Marilyn Monroe launched what may be a test case over the plan of a Los Angeles entrepreneur to project her on stage singing a revamped version of Diamonds are a Girl's Best Friend without its permission.

Many other estates have gone straight to Cameron and Musion to resuscitate* their stars. Elvis Presley Enterprises and Jackson's lawyers have confirmed they are interested in such technology to introduce the late stars to young people. "We would not just reshape old footage but create totally new experiences," a Cameron spokesman said last week. "The songs and the artists will come alive."

It is a prospect that unsettles some: Bob Lefsetz, a music business consultant, said this is the music business almost literally feeding on its own corpse: "Consumers may pay above the odds for tickets, for novelty, but probably only once."
837 words

Source: TimesOnline June 17, 2012


Annotations:
* holograms - Hologramm (=dreidimensionale Abbildung)
* Fender Stratocaster - is an electric guitar. Designed by Leo Fender, George Fullerton, and Freddie Tavares in 1954, it has been manufactured continuously by the Fender Musical Instruments Corporation to the present. It is a double-cutaway guitar, with an extended top horn for balance.
* gig - Konzertauftritt
* disinterred - 'exhumiert'
* well-heeled - betucht, finanzstark
* Coachella music festival - The Coachella Valley Music and Arts Festival (commonly known as Coachella, Coachellafest or Coachella Festival) is an annual three-day music and arts festival, organized by Goldenvoice (a subsidiary of AEG Live) and held at the Empire Polo Club in Indio, California, in the Inland Empire's Coachella Valley. The Coachella Music Festival takes place within a desert setting (the city of Indio is a part of the California Desert), with daytime temperatures frequently rising to over 110 °F (43 °C).
* apparitions - Erscheinungen
* ghoulish - makaber
* to resuscitate - wiederbeleben


Assignments:
1. Describe the technology that will be used to bring back deceased artists alive on stage.
2. What is the difference between 'Pepper's ghost' and the latest version of holograms?
3. What will the audience see and experience on a holographic festival? Would you like to be part of such an experience?
4. Do you think that such virtual performances will be successful in the end? What spectators might be attracted?