TimesOnline, October 29 2010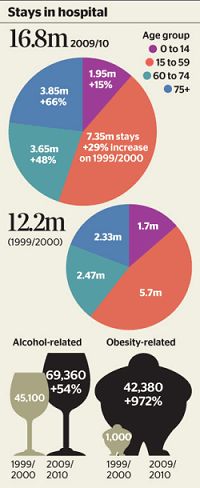 The strain on the NHS generated by Britain's growing elderly population is made clear by figures showing that the over-75s accounted for almost four million hospital stays last year — two thirds more than a decade ago.

Annual figures published by the NHS Information Centre reveal that people over the age of 60 accounted for almost half of all the 16.8 million hospital admissions in 2009-10. Falls, arthritis care and the treatment of chronic conditions contributed to the rapid rise in hospital stays by elderly people.

The nation's battles with obesity and alcohol are also reflected. The number of hospital admissions for obesity treatment rose by 4,000, while there were an extra 5,000 stays for problems caused by alcohol in the past 12 months — equivalent to an additional 20 patients every day.

The cost of obesity and alcohol is estimated to be about £4.5 billion and £2 billion respectively. Elderly care in hospital accounts for more, with one recent calculation of NHS contributions to long-term elderly care put at £4.23 billion.

Experts warn that reform of the NHS will fail if the number of hospital stays, particularly for avoidable emergencies, is not reduced. The Government hopes to save at least £2.7 billion from addressing the problem and improving care at home. Recent research suggested that falls among elderly people cost the NHS more than £4.6 million a day.

The latest figures show the most pronounced increase in stays among the over-75s, who have swelled in number with advances in disease control, clinical care and nutrition in recent years. This group accounted for an extra 1.5 million hospital stays in the 12 months to April compared with a decade earlier. Admissions among the 60-74 age group increased by nearly 50 per cent.

Diseases of the musculoskeletal system and connective tissue — including arthritis, joint disorders and back problems — rose at the fastest rate. In 1999-2000 there were 618,660 admissions compared with 1.12 million last year, a rise of 82 per cent.