THE OPEN WINDOW by H. H. MUNRO (Saki)

"My aunt will come down very soon, Mr. Nuttel," said a very calm young lady of fifteen years of age; "meanwhile you must try to bear my company."
Framton Nuttel tried to say something which would please the niece now present, without annoying the aunt that was about to come. He was supposed to be going through a cure for his nerves; but he doubted whether these polite visits to a number of total strangers would help much.
1 know how it will be, "his sister had said when he was preparing to go away into the country; "you will lose yourself down there and not speak to a living soul, and your nerves will be worse than ever through loneliness. I shall just give you letters of introduction to all the people I know there. Some of them, as far as I can remember, were quite nice."
Framton wondered whether Mrs. Sappleton, the lady to whom he was bringing one of the letters of introduction, was one of the nice ones.
"Do you know many of the people round here? " asked the niece, when she thought that they had sat long enough in silence.
"Hardly one," said Framton. "My sister was staying here, you know, about four years ago, and she gave me letters of introduction to some of the people here."
He made the last statement in a sad voice.
"Then you know almost nothing about my aunt? " continued the calm young lady.
" Only her name and address," Framton admitted. He was wondering whether Mrs. Sappleton was married; perhaps she had been married and her husband was dead. But there was something of a man in the room.
"Her great sorrow came just three years ago," said the child. "That would be after your sister's time."
"Her sorrow?" asked Framton. Somehow, in this restful country place, sorrows seemed far away.
"You may wonder why we keep that window wide open on an October afternoon," said the niece, pointing to a long window that opened like a door on to the grass outside.
"It is quite warm for the time of the year," said Framton; "but has that window got anything to do with your aunt's sorrow?"
"Out through that window, exactly three years ago, her husband and her two young brothers went off for their day's shooting. They never came back. In crossing the country to the shooting-ground, they were all three swallowed in a bog. It had been that terrible wet summer, you know, and places that were safe in other years became suddenly dangerous. Their bodies were never found. That was the worst part of it." Here the child's voice lost its calm sound and became almost human." Poor aunt always thinks that they will come back some day, they and the little brown dog that was lost with them, and walk in at that window just as they used to do. That is why the window is kept open every evening till it is quite dark. Poor dear aunt, she has often told me how they went out, her husband with his white coat over his arm, and Ronnie, her youngest brother, singing a song, as he always did to annoy her, because she said it affected her nerves. Do you know, sometimes on quiet evenings like this, I almost get a strange feeling that they will all walk in through the window-----"
She stopped and trembled. It was a relief to Framton when the aunt came busily into the room and apologized for being late.
"I hope Vera has been amusing you?" she said.
"She has been very interesting," said Framton.
"I hope you don't mind the open window," said Mrs. Sappleton brightly; " my husband and brothers will be home soon from shooting, and they always come in this way. They've been shooting birds to-day near the bog, so they'll make my poor carpets dirty. All you men do that sort of thing, don't you?"
She talked on cheerfully about the shooting and the scarcity of birds, and the hopes of shooting in the winter. To Framton it was all quite terrible. He made a great effort, which was only partly successful, to turn the talk on to a more cheerful subject. He was conscious that his hostess was giving him only a part of her attention, and her eyes were frequently looking past him to the open window and the grass beyond. It was certainly unfortunate that he should have paid his visit on this sorrowful day.
"The doctors agree in ordering me complete rest, no excitement and no bodily exercise," said Framton, who had the common idea that total strangers want to know the least detail of one's illnesses, their cause and cure." On the matter of food,they are not so much in agreement," he continued.
"No?" said Mrs. Sappleton in a tired voice. Then she suddenly brightened into attention - but not to what Framton was saying.
"Here they are at last!" she cried. "just in time for tea, and don't they look as if they were muddy up to the eyes!"
Framton trembled slightly and turned towards the niece with a look intended to show sympathetic understanding.
The child was looking out through the open window with fear in her eyes. With a shock Framton turned round in his seat and looked in the same direction.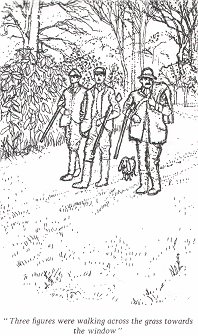 In the increasing darkness three figures were walking across the grass towards the window; they all carried guns under their arms, and one of them had also a white coat hung over his shoulders. A tired brown dog kept close at their heels. Noiselessly they drew near to the house, and then a young voice started to sing in the darkness.
Framton wildly seized his hat and stick; he ran out through the front door and through the gate. He nearly ran into a man on a bicycle.
"Here we are, my dear," said the bearer of the white coat, coming in through the window; " fairly muddy, but most of it's dry. Who was that who ran out as we came up?"
"A most extraordinary man, a Mr. Nuttel," said Mrs. Sappleton; "he could only talk about his illnesses, and ran off without a word of good-bye or apology when you arrived. One would think he had seen a ghost."
"I expect it was the dog," said the niece calmly;" he told me he had a terrible fear of dogs. He was once hunted into a graveyard somewhere in India by a lot of wild dogs, and had to spend the night in a newly-dug grave with the creatures just above him. Enough to make anyone lose their nerve."
She was very clever at making up stories quickly.

1138 words



Assignments:
1. Why did Vera trick Mr Nuttel?
2. What story does she invent to explain Mr Nuttel's behavior? Why does she tell such a tale about him?
3. Why is Framton especially vulnerable to someone like Vera?
4. Saki closes the story with a quote that describes Vera's character "Romance at short notice was her specialty." What does this quote mean and what does it reveal about her character?
5. Explain the conflict that exists in the story.

Vocabulary:
snipe - a type of wading bird
pariah - member of lowest class in India; a social outcast
rectory - a home occupied by a minister or clergy
moor - a broad area of open land, often high but poorly drained, with patches of heath and peat bogs
bog - soft, waterlogged ground; a marsh
falter - to be unsteady in purpose or action, as from loss of courage or confidence; waver
infirmities - frailties; disabilities
imminent - about to occur; impending


About H.H. Munro:
Saki was born Hector Hugh Munro in Akyab, Burma (now Myanmar), the son of Charles Augustus Munro, an inspector-general in the Burma police. Munro's mother, the former Mary Frances Mercer, died in 1872 - she was killed by a runaway cow in an English country lane. Munro was brought up in England with his brother and sister by aunts who frequently used the birch and whip. He was educated at Pencarwick School in Exmouth and Bedford Grammar School. From 1887 he traveled with his family in France, Germany and Switzerland. In 1891 his father settled in Devon, where he worked as a teacher. In 1893 Munro joined the Burma police. Three years later he was back in England and started his career as a journalist, writing for the Westminster Gazette.